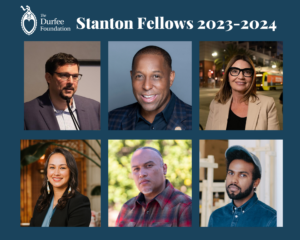 The Durfee Foundation has announced the 2023-2024 recipients of the Stanton Fellowship. These six extraordinary Los Angeles-based leaders will explore responses to some of LA's most pressing challenges. The Fellows and their inquiry topics are below.
Doug Bond is the President & CEO of Amity Foundation, which is dedicated to improving the health and promoting environmental, social, and economic justice of marginalized people. Doug's inquiry focuses on how Los Angeles can better respond to the needs of individuals returning from incarceration.
Tony Brown is the CEO of Heart of Los Angeles, which helps young people overcome barriers through exceptional, free, integrated programs and personalized guidance in a trusted, nurturing environment. Tony's inquiry seeks to learn how we can make the case for investment in youth in Los Angeles.
Kay Buck is a human rights activist and leader in the global anti-human trafficking movement. Currently, she is serving as the CEO of Coalition to Abolish Slavery and Trafficking (CAST), where she leads a team of social justice advocates to end human trafficking through education, advocacy, and empowering survivors. Kay's inquiry asks, if arrest is not the answer for human trafficking survivors, what is?
Dr. Andrea Garcia is a Physician Specialist with the LA County Department of Mental Health, where she focuses on the health and well-being of the Native American community. Andrea's inquiry asks how cities and counties can forge meaningful relationships with American Indian and Alaska Native communities, particularly relating to houselessness.
Joel Garcia (Huichol) is an artist and cultural organizer who uses Indigenous-based frameworks and arts-based strategies to raise awareness of issues facing underserved communities. Joel's inquiry will reimagine indigenous and settler relationships through healing. His inquiry is an expansion of his work exploring healing and reconciliation, memory and place.
EJ Hill is an artist who works in painting, writing, installation, and endurance-based performance to elevate bodies and amplify voices that are rendered invisible and inaudible by oppressive social structures. EJ will explore what an art school would look like if it met the students where they are, in their own neighborhoods.
The Stanton Fellowship Program awards six fellows with $110,000 each over a two-year period to think deeply about challenges that face the future of Los Angeles.
"The Stanton is about research, development, and discovery,'' said Durfee President Carrie Avery and Executive Director Claire Peeps. "The Fellows work both individually and collectively, across sectors, on issues that are fundamentally interconnected."
"We look for the most highly networked, deeply knowledgeable, inquisitive leaders," said Director of Programs Stella Chung, "and those who are best positioned to make change happen. We are delighted to welcome these six exceptional leaders to the Stanton program."
The Durfee Foundation's focus is on extraordinary people who are making a better Los Angeles.
Additional information about the program is available at www.durfee.org/programs/stanton. Contact Stella Chung, stella@durfee.org, 310-899-5120.