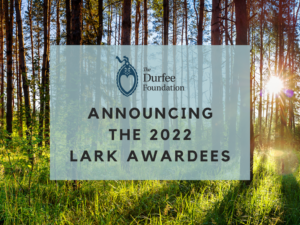 The Durfee Foundation, which invests in extraordinary people who are making a better LA, is pleased to announce the inaugural cohort of Lark Awards recipients.

Durfee's Lark Awards support the collective care and well-being of staff at small Los Angeles-based nonprofit organizations with deep ties to the community. Each organization will receive $30,000 to spend as they see fit to meet the needs of their staff for replenishment.
There are 15 organizations in this inaugural 2022 cohort. They are:
Al Wooten Jr. Youth Center
Alliance for Community Transit
ALMA Backyard Farms
California Black Women's Health Project
CLEAN Carwash Worker Center
Filipino Migrant Center
Khmer Girls in Action
Long Beach Immigrant Rights Coalition
Los Angeles Black Worker Center
Pacoima Beautiful
Sacred Places Institute for Indigenous Peoples
Self Help Graphics & Art
Thai Community Development Center
Tia Chucha's Centro Cultural
Visual Communications Media
"We are moved by the depth and breadth of the organizations receiving the awards; they show the range of vital work in Los Angeles County," said Mary Cruz, Durfee Program Manager. "The stories they shared about the toll that the pandemic and racial reckoning have taken were sobering."
"But Durfee's funding doesn't come close to meeting the need," added Durfee Program Manager Stella Chung. "We hope that other funders will see how urgent this type of support is and find ways to be responsive. We need to replace a culture of burnout with a culture of care."
The awards are named in honor of the late Lark Galloway-Gilliam, founder and Executive Director of Community Health Councils. She left behind a powerful legacy for improving health and environmental equity in South Los Angeles.
Lark Awards applications will be open again in 2023. More information is available at https://durfee.org/our-programs/the-lark-awards/.