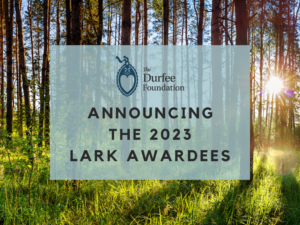 The Durfee Foundation has announced the 2023 recipients of the Lark Awards.
Durfee's Lark Awards support the collective care and well-being of staff at small Los Angeles-based nonprofit organizations with deep ties to the community. Each organization will receive $30,000 to spend as they see fit to meet the needs of their staff for replenishment.
There are 15 organizations in the 2023 cohort. They are:
Cooperation L.A.
DIY Girls
East Yard Communities for Environmental Justice
Feminist Center for Creative Work
Gardena Valley Japanese Cultural Institute
Gente Organizada
Immigration Resource Center of San Gabriel Valley
LA Commons
Las Fotos Project
Mujeres de la Tierra
Open Paths Counseling Center
Operation Jump Start
Positive Results Center
South Asian Network
United Cambodian Community
"We are very excited by this second cohort of Lark Award recipients. These organizations are doing critical, deep work in their respective communities across Los Angeles County. We are grateful to them for sharing their stories, which underscore the urgency of this type of support," said Elmer Vivas Portillo, Durfee Program Manager. "We also continue to learn from the feedback of last year's cohort, which will strengthen the future of the program."
"At Durfee, we believe that the sustainability of organizations depends upon the wellbeing of their staff. People are the principal resource that fuels our sector. We need to take care of them if we hope to achieve our urgent missions for the public good," added Executive Director Claire Peeps.
The awards are named in honor of the late Lark Galloway-Gilliam, founder and Executive Director of Community Health Councils. She left behind a powerful legacy for improving health and environmental equity in South Los Angeles.
Lark Awards applications will be open again in 2024. More information is available at https://durfee.org/our-programs/the-lark-awards/.