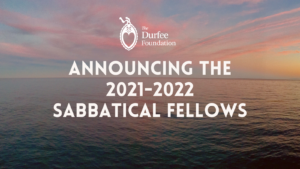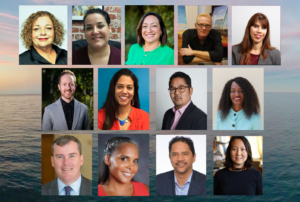 Thirteen LA community leaders awarded sabbaticals after going above and beyond during an unprecedented year
Durfee Foundation more than doubles its Sabbatical Fellowship cohort size, hopes to shift nonprofit culture in the region
Los Angeles, CA, July 1, 2020 // Downtown Los Angeles-based Durfee Foundation, which invests in extraordinary people who are making a better LA, announced today its 2021-2022 class of Sabbatical Fellows.
In its 25th year of funding this program, and in light of the extraordinary need following a year marked by intersecting crises and a global pandemic, the foundation more than doubled the number of awardees. There are 13 fellows in the 2021-2022 cohort.
"Nonprofit leaders, community organizers, and people at the front line, providing support and social services to LA's most vulnerable, kept our communities afloat with a superhuman lift in this past year," said Claire Peeps, executive director of the Durfee Foundation. "They put themselves directly in harm's way for all of our good, and now is the time to take care of them in return."
This year's awards represent a $1 million investment by Durfee in leadership renewal. Awardees' organizations receive $60,000. This includes $50,000 for awardees to travel, reflect or otherwise recharge in whatever manner they propose, for a minimum of three consecutive months; and $10,000 to advance the skills and wellbeing of the organization's staff, and also to reward those who carry extra responsibility during the sabbatical.
"Nonprofits are under constant pressure to do more with less, and their leaders often experience extraordinary emotional burdens, stress, and burnout in their jobs." said Stella Chung, program manager at the Durfee Foundation. "Sabbaticals are more common in the academic and private sectors but most needed in the nonprofit sector. We want to close that gap and show that rest and rejuvenation are a necessity, not a luxury."
The Durfee Foundation has funded over 100 sabbaticals to leaders in Los Angeles since 1997. Evaluations have revealed that sabbaticals help organizations retain their leaders and help shift leaders' perspectives from daily management to distributed leadership and generative thinking and activity. Organizations also benefit from having an opportunity to plan and strengthen their capacity. Sabbaticals can create a permanent shift in the culture of work/life balance for both the leader and the organization's staff.
Click here to download the fellows' headshots.
The 2021-2022 class of Sabbatical Fellows:
Martha Dina Argüello
Martha Dina Argüello is the Executive Director of Physicians for Social Responsibility (PSR-LA). PSR-LA advocates for policies and practices that improve public health, eliminate nuclear and environmental threats, and address health disparities.
Martha Arévalo
Martha Arévalo is Executive Director for the Central American Resource Center (CARECEN). CARECEN empowers Central Americans and all immigrants by defending human and civil rights, working for social and economic justice and promoting cultural diversity.
Maria Lou Calanche
Maria "Lou" Calanche is the Founder and Executive Director of Legacy LA, a youthdevelopment organization. Legacy LA builds the capacity of youth to reach their full potential and equips them with tools to transform their lives and community.
Tim Carpenter
Tim Carpenter is the Founder and Executive Director of EngAGE, a nonprofit that provides arts, wellness, lifelong learning, community building and intergenerational programs to seniors and families living in affordable senior and multi-generational apartment communities in California, Oregon, and Minnesota.
Liz Herrera
Liz Herrera is the Executive Director of El Nido Family Centers, a social service non-profit agency. El Nido strives to build healthy families by providing community-based social services in some of the most underserved communities in Los Angeles County.
Zachary Hoover
Zachary Hoover is the Executive Director of LA Voice, a multi-racial, multi-faith community organization that awakens people to their own power, training them to speak, act, and work together to transform our County into one that reflects the dignity of all people.
Laura Jiménez
Laura Jiménez is the Executive Director at California Latinas for Reproductive Justice (CLRJ). CLRJ is a statewide organization committed to honoring the experiences of Latinas to uphold their dignity, their bodies, sexuality, and families. 
John Kim
John Kim is the Executive Director of Advancement Project California, a multi-racial, multi-generational racial justice organization working to expand educational opportunities for California's children, create healthy and safe neighborhoods, build participatory and representative communities, and shift public investments towards equity.
Christine Mirasy-Glasco
Christine Mirasy-Glasco is the Executive Director of Upward Bound House (UBH). UBH's mission is to eliminate homelessness among families with children in Los Angeles by providing housing, supportive services, and advocacy. 
Adam Murray
Adam Murray is Chief Executive Officer of Inner City Law Center (ICLC), a non-profit poverty law firm serving the most vulnerable individuals and families in Los Angeles County. ICLC provides legal representation and advocacy to thousands of homeless and working poor clients.
Tara Peterson 
Tara Peterson is the Chief Executive Officer of the YWCA Glendale and Pasadena. The organization is dedicated to eliminating racism and empowering women and works to end gender-based violence, promote girls' empowerment and advance racial justice.
Alberto Retana
Alberto Retana is the President and CEO of Community Coalition, a nonprofit organization that works to help transform the social and economic conditions in South LA that foster addiction, crime, violence and poverty by building a community institution that involves thousands in creating, influencing and changing public policy.
Alexandra Suh
Alexandra Suh is the Executive Director of KIWA (Koreatown Immigrant Workers Alliance).   KIWA combines organizing, leadership development, services, and policy advocacy in order to improve the lives of immigrant workers in low-wage industries in Koreatown and build a foundation for social change.